Queenslanders again urged to don masks indoors, as third COVID wave escalates
Masks have again been recommended in all indoor settings and for children in schools next week following a national cabinet meeting between the prime minister and premiers on Saturday.
Queensland Premier Annastacia Palaszczuk said the state was in the midst of a third COVID-19 wave that was expected to last until the end of August nationally.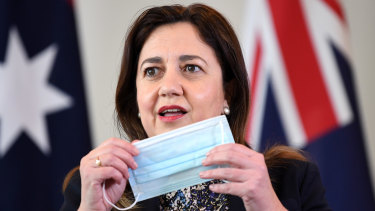 Queensland, which recorded 22 COVID-related deaths in the 24 hours to Saturday morning, has an estimated 46,000 active cases. Of those, more than 920 patients are in hospital, including 14 in ICU.
Palaszczuk described the national cabinet meeting – which was due to be held later in the year but was brought forward to next week, then held on Saturday – as "very important".
"You are strongly encouraged to wear your mask indoors ... we are seeing the escalation of people going into our hospitals ... we expect this wave to go on until even the end of August," she said.
"I'm strongly encouraging, when school goes back on Monday as well, for children to be wearing masks in schools – as well as teachers – except where you can socially distance.
"The other thing we'll be doing too is making sure we've got extra RAT tests going out to schools, and making them more available to people."
Masks are already required on public transport, although the level of compliance varies and enforcement is a matter for police.
The premier said vulnerable people should think about whether they needed to go into their workplaces.
She also urged Queenslanders to get their booster jab – the fourth vaccine dose – saying she had hers recently and it was a quick process.
The Royal Queensland Show, also known as the Ekka, will still go ahead next month.
"The Chief Health Officer will talk to the exhibition, but I can't see why it can't go ahead if people follow the same thing about wearing masks indoors," she said.
Transport Minister Mark Bailey also encouraged Queenslanders to wear masks on public transport.
"With the third wave happening with winter, I would just encourage everybody on public transport – I know everybody is a little over it – but if you can wear your masks," he said.
"It's been a real marathon over the past 2½ years and a lot of people are wanting things to be normal, but the reality is, things are not normal."
Sunday is also the last day Queenslanders can get their free flu vaccine.