New memorial for six men killed in sunken trawler off Queensland coast
A permanent memorial will be built for the six crewmen killed when the fishing trawler FV Dianne capsized and sank in wild seas off the central Queensland coast.
One crew member survived, the bodies of two men were found in the sunken vessel by a police diver, and the bodies of the remaining four crewmen have never been recovered.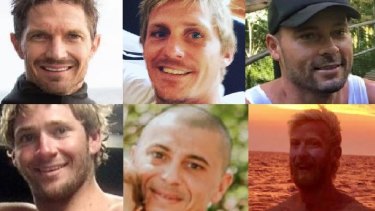 The Dianne sank off the Town of 1770, a coastal town about 500 kilometres north of Brisbane, on October 16, 2017.
The body of skipper Ben Leahy, 45, was found inside the vessel's bunkhouse. Adam Hoffman, 30, was also found dead in the cabin on a later dive.
The bodies of Eli Tonks, 39, Adam Bidner, 33, Zach Feeney, 28, and Chris Sammut, 34, have never been found.
The sole survivor, Ruben McDornan, clung to the hull of the overturned trawler and could hear screaming from his "brothers" who were trapped inside the sinking vessel.
All of the crew except McDornan were in the wheelhouse, which was rapidly taking on water. McDornan rushed to the wheelhouse door as the boat overturned.
He tried to open the door and free the men trapped inside. However, the pressure against the door from the incoming ocean meant it would not budge.
He was found hours later by a couple on a passing yacht, treading water without a lifejacket about 20 nautical miles away from where the Dianne sank.
The coronial inquest into the deaths of two men who died when the FV Cassandra overturned off Fraser Island in the early hours of April 4, 2016, and six men who died on the Dianne, criticised authorities for failing to implement a safety feature to alert police when a boat vanishes.
Coroner David O'Connell recommended in 2019 that the Department of Agriculture and Fisheries immediately implement the vessel-monitoring system feature designed to send an SMS or email to police if a vessel fails to "poll" on the system, which may indicate it has sunk.
On Friday, the state government announced work would start on a permanent memorial for the Dianne crew.
The temporary memorial in place at the lookout in the Joseph Banks Conservation Park in the town of 1770, has been targeted by vandals in the past.
"It has been nearly five years since the tragedy, but it is important we get this right," Transport Minister Mark Bailey said.
"An artist's impression of the memorial ... was designed with guidance from the families of the FV Dianne crew.
"We also wanted to make sure the memorial honours the actions of the local community who responded to the incident."
Work on the new memorial will begin on Monday, and is expected to be completed in September.