Opinion
Navigating the booby traps hidden in ANZ's deal to buy Suncorp Bank
Nothing says parochial quite like Queensland. So selling one of the state's two major home-grown banks to a) the Victorian-based ANZ that is b) one of the big four – well, that's a deal littered with booby traps.
The biggest of these could be the thwarting of a competing proposal from Bendigo and Adelaide Bank to buy Suncorp. Regardless of whether this deal was more or less attractive, it could be pivotal to the competition regulator's deliberations on whether to approve the ANZ deal. More on that later.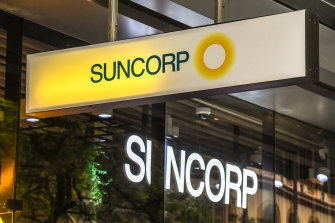 Having watched intense rivalry played out in last week's State of Origin, there is one positive – ANZ is not based in NSW. Meanwhile, three sets of conditions need to be met before ANZ's deal to buy Suncorp Bank.
In reverse order of difficulty, the first is a tick from Federal Treasurer Jim Chalmers, which probably won't require much more than inking up the rubber stamp.
The second is the Queensland government – and it only has a say because the deal requires some amendments to the arcane State Financial Institutions and Metway Merger Act 1996 (QLD).
Philosophically, there should be little for this government to be concerned about. But for the government, the beauty of this gatekeeper position is that it can extract all manner of concessions from ANZ's boss, Shayne Elliott.
It is no accident that ANZ has undertaken to retain Suncorp's branch network and staffing levels for three years and the bank's brand for between five and seven years.
But that's not all: ANZ doesn't want to leave anything to chance, and it's prepared to invest its way to the Queensland government's approval.
It has also committed to allocating $15 billion of new lending for renewable projects and green Olympic Games infrastructure over the next decade, and another $10 billion of new lending for energy projects in bioenergy and hydrogen over the next decade.
And on top of that, $10 billion of lending was made available to support Queensland businesses over the next three years.
But the mother of all obstacles is the Australian Competition and Consumer Commission, which, unlike the Queensland government, has a rusted-on philosophy that the big four banks should not be able to buy their way to an even larger market share.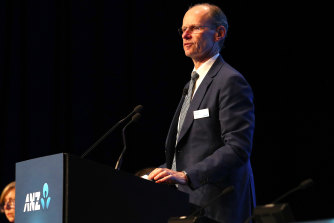 In a regulatory sense, resources and policies post the Financial Services Royal Commission have been focused on how to break the power of the four-way banking oligopoly in Australia.
Elliott's challenge is to rework the perception that the big four are, well, big. And that lumping them together misses the finer point that the Commonwealth Bank, and to some extent, Westpac, are home lender giants, National Australia bank is big and ANZ is tail-end Charlie, size-wise. He reckons the big four is a myth.
He has a point, but ANZ is still far, far larger than its next biggest rival. Elliott's argument goes that even if ANZ was to acquire Suncorp Bank, it would still account for only 15 per cent of the market compared with CBA's 26 per cent and Westpac's 21.6 per cent and NAB with about 16 per cent.
Perversely, bulking up ANZ would allow it to better compete with its larger rivals.
That is all true. And it is also a given that ANZ would not have proceeded with this proposal without having a view that it had a decent chance of gaining ACCC approval.
The ACCC for its part needs to decide on whether the deal would lead to a substantial lessening of competition. Even if this is found to be so, there is still an opportunity for ANZ to mount a case that the deal is in the public interest.
But the ACCC also takes into account the existence of alternative transactions that may be less harmful to competition - or even promote it.
This is where Bendigo and Adelaide Bank could be able to mount a case that despite numerous attempts to engage with Suncorp about a scrip-based acquisition, it was serially rebuffed, had at least two meetings with Suncorp cancelled and had placed a written expression of interest before the Suncorp chairman. It also sought due diligence which was not granted. All of this will presumably form part of a submission from Bendigo and Adelaide Bank to the ACCC inquiry into the ANZ deal.
Suncorp did not answer media questions on alternative bidders during its press briefing on Monday.
From Suncorp's perspective, the all-cash proposal from ANZ is clean, neat and decently generous - although there are already some Suncorp shareholders that are declaring it skinny.
But for Elliott, this deal is a no-brainer. ANZ gets to recoup the market share it has lost, particularly in home lending, in recent years.
He says the bank has sorted all the IT and processing problems that have plagued its ability to grow mortgages.
It represents a chance to kick-start growth in one of the fastest-growing state markets.
The Business Briefing newsletter delivers major stories, exclusive coverage and expert opinion. Sign up to get it every weekday morning.