Man who killed a mother, raped daughter sentenced after eight-year delay
The man who strangled a Brisbane mother to death before raping her 12-year-old daughter for 90 minutes has been sentenced after an almost eight-year court case.
Jacob Michael Smith, 45, was sentenced to life imprisonment for murder and rape after a jury trial in March 2018, before that conviction was quashed by the Court of Appeal last year.
The Court of Appeal ruled the original trial judge failed to instruct the jury that Smith may not have intended to kill the woman. A retrial was ordered on the murder charge in May 2021.
However, that retrial never happened, with Smith's legal team striking a deal to plead guilty to manslaughter, as a substitute for murder. This was to ensure the victim's daughter did not have to testify again.
In the early hours of August 26, 2014, Smith went to the victim's Brisbane home where she lived with two of her daughters and two male housemates.
The victim's daughters, aged 11 and 12, were sleeping on a mattress in the lounge and their mother was next to them on a separate mattress.
Smith regularly stayed at the home. The victim's daughters called him "Uncle Jake".
Smith laid down next to the victim on her mattress. Some time later, one of the victim's daughters woke briefly and heard Smith talking to her mother.
The victim's daughter woke again and saw Smith had his arm around her mother's neck.
"[Smith] smothered and strangled [the victim] for several minutes by applying force to her neck area, he unintentionally caused her death through asphyxiation," Crown prosecutor Philip McCarthy said.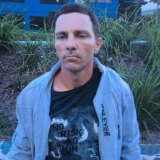 The court heard Smith intended to cause the victim fear and pain, after she rebuffed his sexual advances that night.
Smith then turned his attention to the 12-year-old girl.
"He led that child into her mother's bedroom, pushed her down onto the bed and told her she is going to become a woman," McCarthy said.
"For a period of almost an-hour-and-a-half, she was detained in her mother's bedroom.
"He overcame her protests by putting his hand over her mouth and nose, stopped her breath and threatening to slit her throat if she yelled – he was brandishing a knife-like implement."
During the rape, Smith put on various items of clothing he found, belonging to the mother and her daughter.
"[The victim] told him that she was going to tell her mother what he had done. The defendant replied: 'Okay, do that'," McCarthy said.
Smith was picked up by a friend later that day and driven to another friend's home. On the drive, he confessed "he did something stupid and had killed someone" and "they had deserved it".
He was arrested a couple of days later on the Gold Coast.
Throughout the sentencing in Brisbane Supreme Court on Friday, Smith sat still in the dock, leaning forward slightly, but barely moving and showing no emotion at any point.
Judge Soraya Ryan said even though she was only sentencing Smith for manslaughter on Friday, she took all of his offending that night into account.
"You have one of the most violent criminal histories I have ever seen. It appears to have been driven mostly by a serious raging addiction to methamphetamine," she said.
She described the rape as "cruel, callous and evil".
Judge Ryan sentenced Smith to 20 years imprisonment. She also ordered he must serve 80 per cent of his sentence being eligible for parole.
Smith has already spent almost eight years in pre-sentence custody and will have to serve at least another eight years behind bars before he can be considered for release.