Inside the $65 million to $70 million Melbourne mansion that will shatter price records
Multi-millionaire buyers can finally get a look inside the Melbourne mansion that is the most expensive home ever for sale in Victoria.
Blair House in the salubrious eastern suburbs enclave of Toorak carries an asking price of $65 million to $70 million.
Sums in this range are not out of the ordinary in the luxury New South Wales market, but never has a property that expensive been on the open market in Victoria.
The campaign for the Georgian-style estate at 17 St Georges Road officially launched on Wednesday when advertising went live, showing a circular driveway with a stone sculpture, a verdant tennis court rimmed by impeccable hedges and multiple manicured lawns, on 7800 square metres set back from the street for privacy.
The floorplan includes formal living areas - a drawing room and a sitting room - plus ten bedrooms, a study, a retreat, a grand "reception hall", a breakfast room and terraces unfurling to the lush gardens.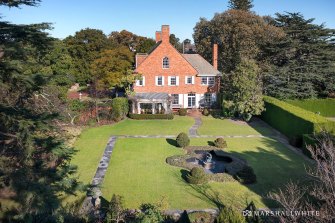 For discretion, only a small number of photos have been released - there are just two of the interior.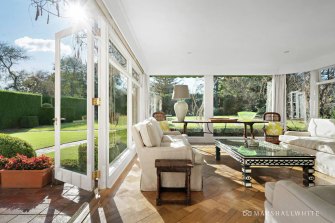 A second property is included, which the listing reveals is a double-storey converted stable, with the flexibility of two or three bedrooms. It is self-contained by its "own private walled garden" and accessed by car from a neighbouring street.
Some of the rare trees on the estate are from the grounds of Victoria's first government house, dating to 1849.
If Blair House achieves its asking price, it will obliterate the Victorian residential real estate record.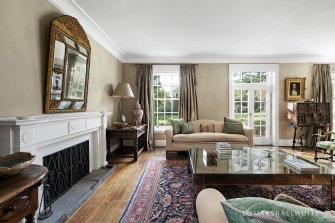 The Victorian price benchmark is the $52.5 million paid for Stonington mansion in the neighbouring suburb of Malvern, which changed owners in 2017.
The St Georges Road mansion made headlines before images were released, with the real estate agency Marshall White teasing the historic listing before details of the property - including what it looks like - were made public.
St Georges Road in Toorak is one of the elite streets of Melbourne. Mansions of monumental size and luxurious design line the boulevard, which runs between the main arterial of Toorak Road and the Yarra River.
Marshall White director Marcus Chiminello is managing the expressions of interest campaign, which will close on August 8.
Chiminello was also a listing agent for the property that achieved the Australian record auction price, also in Toorak, in October last year.
The $43 million dollar home at 47 Lansell Road, renovated by international designers, is the most expensive property ever sold under the hammer.
It also set Toorak's suburb price record, but with 17 St Georges Road in the stratosphere of the prestige market, that is poised to be eclipsed.