Holly Valance to kiss LA mansion goodbye for $126 million
Former Neighbours star and singer Holly Valance and her British billionaire husband Nick Candy are set to shift from their Los Angeles mansion, and will reportedly list it for $126 million.
The 10-bedroom estate in Holmby Hills is considered one of the area's best examples of art deco architecture.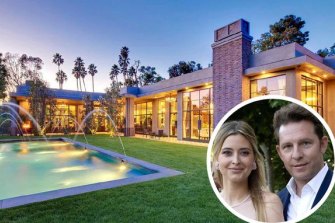 Known as The Reserve, it's a revered address, even within one of the most exclusive real estate markets in the world.
This prompted approaches to the couple with offers to buy, according to Bloomberg, which led the luxury real estate tycoon and the Kiss Kiss songstress to seek out an agent, from a prestige firm called The Agency, to broker a deal with interested parties.
The property will carry a price of $US85 million ($126 million), Bloomberg reported.
The estate came to be in the Candy name first through Nick's brother and property development business partner Christian, who bought it for $US24 million in 2013 from Mission Impossible and Bourne Legacy star Jeremy Renner, who had restored it faithfully to its roaring 1920s origins.
In 2018, Christian sold the house to Nick and his Australian wife, who married in a ceremony in Beverly Hills in 2012.
Valance and Candy's art deco affair is high-octane glamour, glamour, glamour, but the couple's two young daughters were not forgotten.
The little girls' bedroom includes a ball pit with two slides, affixed to a life-sized doll house to play in.
For the grown-ups is an old-Hollywood style bar, deep outdoor terraces with high rooflines and a two-storey pavilion for drinks and lounging overlooking the tennis court. A standalone guest house is an addition the pair made post-2018.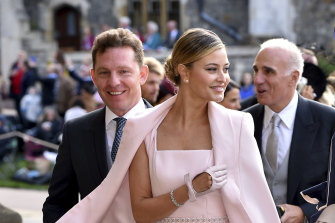 The home is a featured project on the website for Nick and Christian's luxury interior design and development firm Candy London.
Nick, 49, and Christian, 47, made their fortune after renovating flats in London in the mid-'90s and had set up their development business by the end of that decade.
Interior design projects for their company also include an elegant Chelsea manor, a Mayfair townhouse, a 63-metre superyacht and the penthouse crowning the ultra-expensive One Hyde in London.
The Candy brothers developed the high-end apartments in One Hyde, Knightsbridge, which hit the market in 2011, and is the endeavour that made them a big deal in luxury real estate circles.