Opinion
Even stranger things: How Hollywood is fast-tracking bright young stars
From the Hollywood trade press comes news that Finn Wolfhard from Stranger Things and Billy Bryk, who starred with him in Ghostbusters: Afterlife, are about to direct a movie together.
Having written the script for the horror comedy Hell of a Summer, they will also star in it.
It's a wake-up call for anyone trying to break into filmmaking that Wolfhard is 19 and Bryk is a comparative veteran at 22.
That makes it a low-risk exercise.
If Hell of a Summer – great title – turns out to be a mess, they have an excuse: they're young and inexperienced.
Stranger Things fans will want to watch it anyway so it won't be a complete disaster financially. And they have the insurance that actor-director Jason Bateman (Arrested Development, Ozark) is one of their producers.
But if the movie succeeds, the duo will kickstart new careers as writer-directors.
Bright young stars are big business for Hollywood.
Jennifer Lawrence broke through with an Oscar nomination for Winter's Bone at 20. Saoirse Ronan had the first of her four Oscar nominations at 13.
An especially talented crop of young stars coming through includes Millie Bobby Brown, Zendaya, Tom Holland, Timothée Chalamet, Anya Taylor-Joy, Jalyn Hall, Florence Pugh, Shameik Moore, Elle Fanning, Lucas Hedges and Australia's Odessa Young, Eliza Scanlen and Kodi Smit-McPhee.
For young directors, Hollywood is generally a harder place to get a break.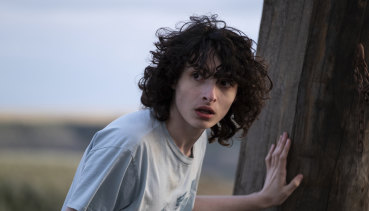 And it's a tough gig.
Years ago, I interviewed a Hollywood screenwriter who rattled off all the ways he prepared to direct his first movie, including improving his diet, sleeping longer, cutting out alcohol, doing yoga and meditating. After a week of shooting, he reckoned he was so stressed that he almost had a breakdown.
Australia's youngest feature film director has been arguably Abe Forsythe, the actor turned writer-director who is now well-known for the series Wolf Like Me and the films Down Under and Little Monsters. He was 20 when he wrote, directed and starred in Ned, an anarchic, low-budget comedy about the rise and fall of Ned Kelly.
At first glance, Wolfhard and Bryk seem way too young to be directing a film. They look more like they should be directing patrons to the right cinema at Hoyts.
But then a little Googling revealed that Canadian wunderkind Xavier Dolan wrote, directed and starred in his first film, I Killed My Mother, at 19. Sam Raimi was 20 when he directed the cult horror film The Evil Dead. Robert Rodriguez was 23 when he shot El Mariachi.
At 24, John Singleton was nominated for Oscars for both writing and directing Boyz n the Hood, Belgium's Chantal Akerman had emerged as a major director with Je Tu Il Elle and Steven Spielberg was directing Duel.
Most shockingly, Orson Welles was just 25 when he co-wrote, directed and starred in the classic Citizen Kane.
So get cracking Finn and Billy! Time's running out.
Find out the next TV, streaming series and movies to add to your must-sees. Get The Watchlist delivered every Thursday.
Email the writer at gmaddox@smh.com.au and follow him on Twitter at @gmaddox.