The Wrap: ASX posts best day in three weeks thanks to tech rally
Updated
first published at
Welcome to your five-minute recap of the trading day and how the experts saw it.
The numbers: The Australian sharemarket has started the week on the front foot, climbing by 1.2 per cent thanks to resources and tech stocks.
The ASX 200 closed at 6,687.1 points, moving slightly higher over the course of the session, after a Wall Street rally on Friday sparked a solid start.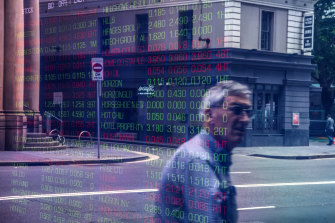 Tech stocks jumped by 2.9 per cent, with software company WiseTech Global moving 7.2per cent higher after it announced an improved earnings forecast on Friday.
In the energy sector, Whitehaven Coal moved 5.2 per cent higher after announcing a record $3 billion profit on the back of high coal prices, which surged following Russia's invasion of Ukraine. Overall, energy stocks rose by 2.2 per cent.
The major miners also moved upwards as the day wore on, with Fortescue up by 3.4 per cent and BHP advancing by 2.4 per cent ahead of its production report release this week.
The financial sector advanced by 1.4 per cent after ANZ's $4.9 billion deal to buy Suncorp's banking arm was announced. Suncorp shares finished 6.1 per cent higher.
The lifters: Pendal Group 9.3%, Liontown Resources 8.4%, Life360 8.2%
The laggards: Appen -3.1%, Kelsian Group -2.9%, The A2 Milk Company -2.4%
The lowdown: The big news of the day was ANZ's $4.9 billion Suncorp play, which would significantly expand the major bank's retail banking and Queensland presence.
Jarden analysts said the move would improve ANZ's market share, although the benefits may not be seen until 2027. As for Suncorp, Jarden says the move is "strategically sensible", particularly as the financial services inquiry in 2019 reduced cross-selling opportunities between Suncorp's insurance and banking arms.
Meanwhile, UBS analysts have downgraded Rio Tinto's earning outlook following its production report on Friday, despite operational improvements at its new Gudai-Darri iron ore mine which helped boost June quarter iron ore production by 2 per cent.
"However, weaker realised iron ore prices and higher costs in AI drive another downgrade to our earnings estimates," UBS co-head of mining research Lachlan Shaw said.
"Despite recent share price weakness we remain cautions on the stock as further downside to iron ore prices is likely to result in materially lower cash flow and returns over the next 12 months."
Software company Nuix missed out on the tech rally after it announced it expected its earnings to fall from $30.5 million last year to an estimated $10-$12 million this financial year.
Tweet of the day:
Quote of the day: "I'm very firmly in the 'we're nowhere near the bottom' camp," said founder of hedge fund Bronte Capital, John Hempton, in the AFR.
You may have missed: Annual inflation in New Zealand has hit 7.3 per cent, the highest level in the country since June 1990. The June quarter figures were higher than economists expected and may prompt the Reserve Bank of New Zealand to lift rates by a further 75 basis points next month. New Zealand was one of the first developed economies to lift interest rates to curb inflation, with a current cash rate of 2.5 per cent.